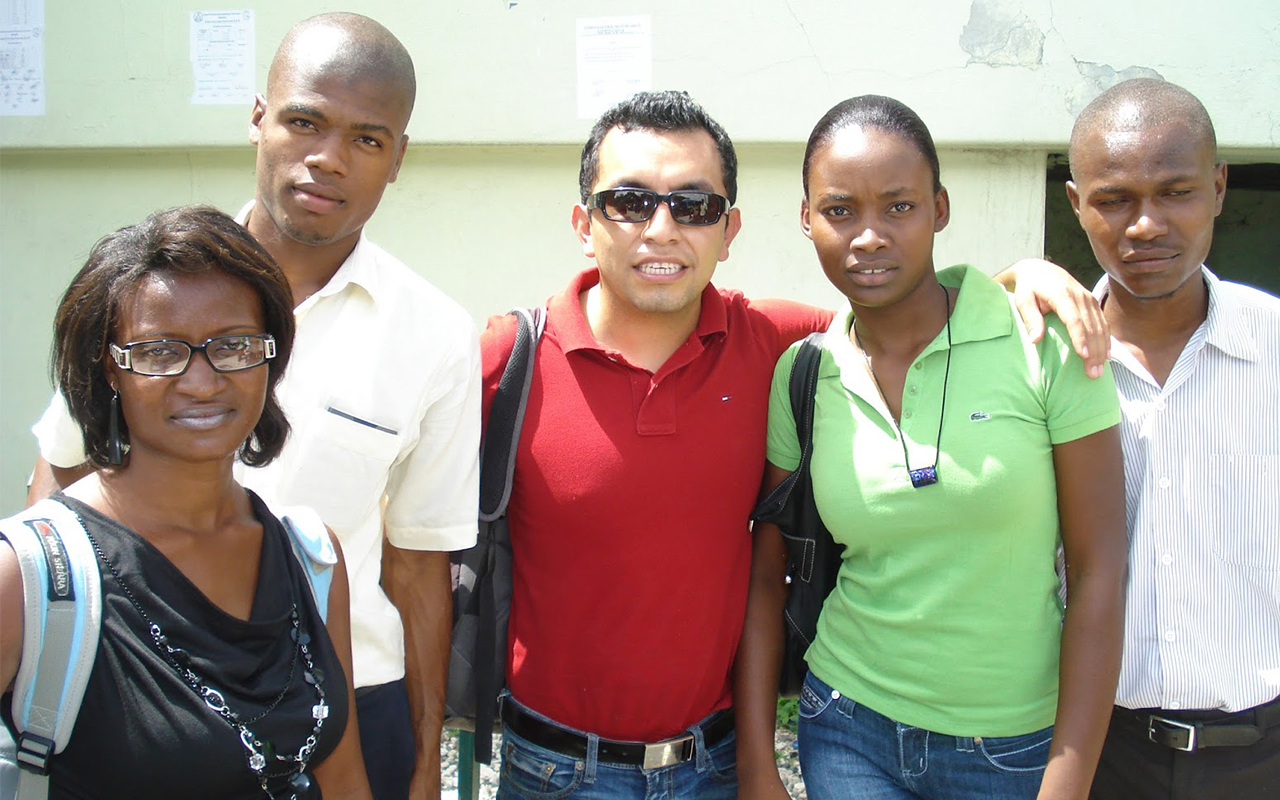 Credits: Ruviel Sibaja Ramírez
Ruviel Sibaja Ramírez (LEI'05/MAE'13) comes from the Sierra de Tehuantepec, in the state of Oaxaca. In 2001, he received an academic excellence scholarship to study at UDEM. His time at the Universidad de Monterrey had an enormous impact on his professional and personal life: "To this day, I carry in myself the UDEM values everywhere I go, and I share them with the people I know. Out of the events that marked my time at UDEM, I would highlight three: my experience in UDEM Missions, in which I participate twice, my internship in Chicago, and the excellent professors I had and friends I made during my course of study."
To Ruviel, UDEM is a university that is open to human being and what sets it apart from other universities is the fact that it is a humanistic institution, and it is something that also distinguishes its graduates.
Since 2004, he has been leading an initiative to support the young people from Escuela Hogar Nuestros Pequeños Hermanos (NPH), with social mobility scholarships granted by UDEM. About this, he said: "I came from this orphanage, where I arrived when I was 8 months old. The orphanage is located in Cuernavaca, Morelos, and it is celebrating its 63 rd anniversary this year. The UDEM has been supporting us since 2004 and 11 students have managed to graduate. Three of them continued studied and completed master's degree programs. Another one is pursuing his masters at the Universidad Iberoamericana."
Currently, there are 14 students pursuing undergraduate degree programs at UDEM. Most of them are enrolled in Medicine and Engineering programs. In an effort to provide these young people with more tools, this project has promoted exchange initiatives, with support from the programs offered by UDEM. Seven boys have taken courses abroad in countries such as Germany, Argentina, Chile, Spain, and the United States.
In 2007, our ExaUDEM worked as a volunteer in Port-au-Prince, Haiti. There, he participated in social projects aimed to provide access to housing, food, health, and education with the Association Nos Petits Frères et Soeurs (NPFS). In 2008, before the devastating earthquake that hit this nation, he worked jointly with NPFS to help Haitian university students so that they could pursue a university education at the Universidad de Monterrey. "That same year, we founded an association in order to formalize different support that we were processing for the students. After the 2010 earthquake, we intensified our cooperation with Haiti and we sponsored four more students. Whenever I can, I participate in other associations where I am invited as a member of committees, mainly in the educational and fundraising areas," he told us.
In the professional sphere, he has also been involved in social labor with different charity associations. For the last four years, he was Executive Director with the Association Boys Hope Girls Hope, A.B.P. This association is an affiliate of US organization Boys Hope Girls Hope Inc., and it aims to help children and young people who live in poverty by providing them with a home, support, and a comprehensive, formal education. The areas in which he has specialized, and in which he believes he can help the charity associations are: Corporate Government, Funds Procurement, Marketing, Accounting and Finances, Auditing, Legal, and Human Resources.
In 2017, Ruviel was admitted onto the Master of Nonprofit Administration Program of the Mendoza College of Business, at the University of Notre Dame, where he was also given a scholarship to pursue his studies.
Among the most important achievements of his life, our ExaUDEM includes maintaining and experiencing the value of serving others, even through the years: "This value has allowed me to do my bit to help those most in need, having an impact on several young men and women who have succeeded in graduating from university, participating in exchanges, and even continuing their education until completing a master's degree program. The value of serving others has taken me to places I never imagined."
I wholeheartedly thank God and UDEM, and other catholic organizations and people who have helped me through time to get where I am now. I am very proud of having been educated and trained at institutions like UDEM, because in the end it is that essence that keeps my desire to serve people alive. I think there is nothing more rewarding than genuinely serving those most in need. I am aware that it is thanks to many people and institutions who have helped me that I got to this point in my life, and I would like to express my most sincere gratitude," Ruviel concluded.
Contact:
nph-mexico.org
facebook.com/NPHMx