What is RecoLATIN?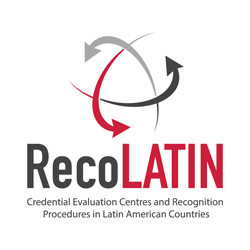 The Centers for the Evaluation of Qualifications and Accreditation Procedures in Latin American Countries, RecoLATIN, is a project whose aim is to further and increase the quality of vertical and horizontal mobility among higher education systems in Latin America and Europe.
In this respect, the universities participating in the project will improve their competencies and skills as regards the evaluation of qualifications through the establishment of common practices and tools jointly with the Ministries of Education of participating countries.
The project will focus on the accreditation of credits and academic degrees, as well as on transnational education and the establishment of criteria that ensure the quality of the processes related to this subject.
Higher education institutions from France, Norway, and Italy, participate in Europe. Participating higher institutions in Latin America are from Panama, Uruguay, and Mexico. Additionally, centers specialized in the accreditation of qualifications from those European countries and the Ministries of Education from the Latin American countries also participate. In the specific case of Mexico, the Universidad de Monterrey and the Universidad Autónoma de México are contributing to the project, as well as the General Office for Accreditation, Incorporation, and Validation of the Secretariat of Public Education.
To UDEM, RecoLATIN represents an opportunity to improve our own qualifications accreditation processes and practices and to participate in the construction of procedures that contribute to create centers and structures with this objective at a national level, under international standards and with processes that ensure quality.
RecoLATIN has a duration of three years, from 2016 to 2019. The dissemination of results is a fundamental part of the project. Therefore, we will soon be sharing relevant news and information.

The following are some of the activities to be carried out:
A study on student mobility.
Training courses on the accreditation of qualifications.
Visits to centers specializing in this subject in Europe.
Seminars and conferences.
National reports on the educational systems of participant countries.