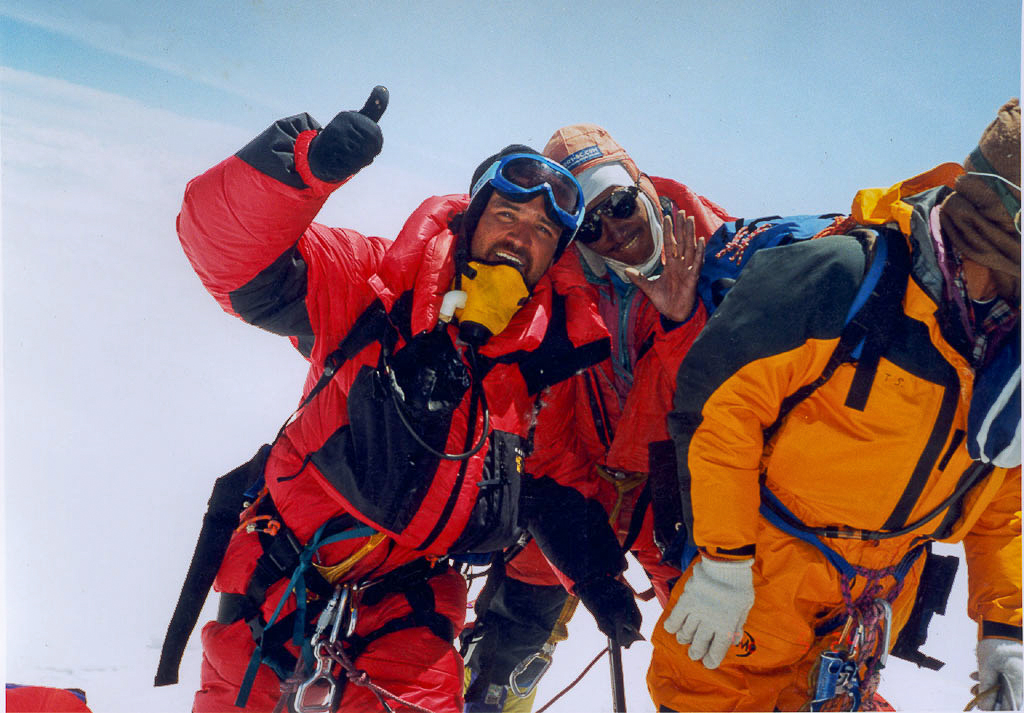 Credits: UDEM File
Alejandro Villarreal, a graduate of the undergraduate program in Industrial and Systems Engineering, is a pioneer in the incorporation of experiences and adventure into learning for human and organizational development. He has led leadership programs in which he has incorporated challenges, high-impact activities, adventure, organizational development, and many other challenging activities.
Alex's personal and professional trajectory is admirable. His experience and capability to face challenges with a positive attitude has led him to support dozens of organizations, such as Tyson, IOS Offices, and Cemex, and climb up the tallest mountains in the Himalayas, like Mount Everest. We had the opportunity to learn a little more about him and his trajectory, and about the success he has had throughout his career.
Alex told us how he started Odisea, his current professional project: "Odisea came about by itself; it simply came into being. It started quite naturally, as a response to a search, to being able to develop a lifestyle that never runs out of challenges and fun. What we did had to have a transcendental sense."
Among the tools used by Odisea are Lego Serious play, TetraMap, and Experiential Learning; philosophies such as Systemic Thinking, Ontological Coaching, and Sustainability, as well as dialog methodologies such as Appreciative Inquiry, World Café, and Open Space, which have enabled them to evolve by offering avant-garde programs.
"Our learning strategy involves motion, interaction, as well as the power of stories, images, and metaphors," Alex commented on how he has managed to transcend with Odisea in such a highly competitive market.
One of his main personal achievements, which is closely related to the creation of Odisea, was reaching the summit of Mount Everest. Alex told us what motivated him to set this goal: "Ever since I moved to Monterrey, when I was 10 years old, the mountains have always caught my attention, especially the part of the Sierra Madre that we know as the "M." Looking at that lofty mountain rise like a wall and hide from our eyes everything behind it always captivated me. My curiosity grew to the point that some friends from UDEM and I tried to reach the summit. We didn't know the paths well and we didn't make it to the summit. However, it was a very foggy day, full of mysticism, and so I was hooked."
Preparing for a challenge of such magnitude is no easy task. Alex shared with us how he did it: "I went up many mountains. I climbed up mountains throughout the Americas, from Alaska to Chile, and Argentina, going through Washington, Oregon, California, Mexico, Peru, Bolivia, and Ecuador."
It took eight years of preparation, 15 prior international expeditions, 70 days traveling, and 45 days in the mountain.
"There are no words that can describe the excitement of the last few steps toward the summit. Imagine winning an Olympic medal, but with no stadium and no audience, there is just the sky and the horizon. Years of work and dedication come to fruition, but at the same time, there are no guarantees of success. You still have to climb down and go back home. It's during the climb down that most accidents happen," Alex told us about the experience of reaching the summit of Mount Everest.
The key to having reached this goal is very clear to Alex: "Persevere, persevere, and never give up. It took me a lot longer than I thought it would. I received support from my whole family and all my friends, but in particular from Lety, my wife." After Mount Everest, Alex skied coast-to-coast across Greenland in 2003, and later, from 2004 to 2008, he carried out one of the most interesting projects in his life here, at UDEM: the course International Experience in Leadership and Adventure. Thanks to this, he was able to go on 15-day expeditions with students to Ecuador, Peru, Alaska, and Patagonia.
Alex feels very proud to be an ExaUDEM: "I have witnessed UDEM's growth and development. I have worked closely with different areas on various projects. I have a community of ExaUDEM friends. All of this makes me feel very proud. The concept of the Human Being as the beginning and the end, gradually becomes part of you, every day."