Gerardo González-Aleu González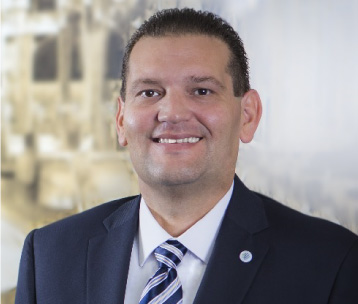 Credits: UDEM File
Gerardo González-Aleu González, a graduate of the undergraduate program in Industrial Engineering and Systems, has received recognition for his career from the Board of the Continuity Program of the Instituto Panamericano de Alta Dirección de Empresa (IPADE), the Board of the Chamber of the Manufacturing Industry of Nuevo León (CAINTRA), and the Board of the National Auto Parts Industry Association (INA).
Talking about his career, we found out that our ExaUDEM started his professional path in 1992, working in the Logistics area of Grupo Gamesa. Later, in 1994, he joined the Power Solutions division at Johnson Controls, where he has held different Managerial and Directorial positions, both in the Operations and Commercial areas. Currently, he is the Vice-President and Director General for Latin America of the Power Solutions Division at Johnson Controls. Additionally, he is President of the Board of the Automotive Cluster of Nuevo León.
Concerning his education, Gerardo pursued the master's degree program in Quality Systems at the Tecnológico de Monterrey in 1998, and IPADE's MBA program en 2001. Furthermore, he did executive specialization studies at the Kellogg School of Management and at IPADE. "From 2009 to early 2011, I resided in Milwaukee, Wisconsin, working as Product and Market Development Director for the Americas," he told us about his career development in Johnson Controls.
"From 2011 to 2015, I held the position of Director General for Mexico and Central America; and I have been the Vice-President and Director General for Latin America at the same division since May 2015."
Gerardo has also been an active player in the educational community. He was a professor at the Universidad de Monterrey for 10 years, from around 1992 to 2001. Additionally, he was a sponsor and speaker during the inception of UDEM's undergraduate degree program in Engineering Business Management, in 2015.
In the entrepreneurial community, he has occasionally been a speaker for the ICAMI (2016), and a Lecturer for the USEM (Mexico's Social Union of Entrepreneurs) Diploma Course in Social Education (DIFOSO).
As an advisor, he has been part of the continuity program of MEDEX, IPADE. He has also been a member of the board of CAINTRA, from 2011 to 2013, and from 2017 to date. Likewise, he was a member of the board of the INA, from 2011 to 2013; and a member of the Board of the Automotive Cluster (CLAUT), from 2011 to 2013, and from 2016 to 2017. "Currently, I am serving as President of the Cluster," he told us.