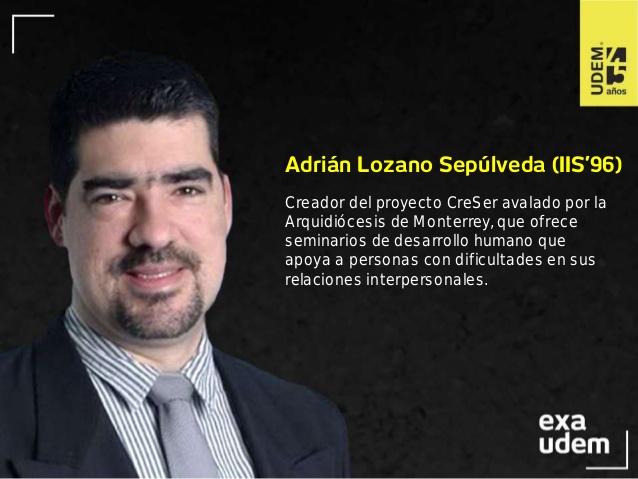 Credits: UDEM File
Adrián Lozano Sepúlveda graduated from the undergraduate program in Industrial and Systems Engineering in December 1996. He is the creator of Grupo CreSer, a human development seminar endorsed by the Monterrey Archdiocese to help people have healthier, longer lasting relations with themselves and others.
At the beginning of his career, in 1994, Adrián was a project-development leader to increase plant productivity, in Grupo CYDSA. These projects included the implementation of Japanese techniques (5's + 1, SMED, manufacture work cells, implementation of supplier assessment, and Total Productive Maintenance (TPM).
Our ExaUDEM joined Alestra in 1997. There, he started as Head of Collections Operation and Payment Motivators and Indicators. In 2002 he became Head of Printing, Distribution, and Electronic Invoices, focused on innovation and continuous improvement.
When studying Emotional Intelligence and Gestalt Psychotherapy at the Gestalt Fritz Perls Psychology Center, Adrián discovered his passion for human development and decided to focus his career on this area.
"Over the last seven years, I have lectured, taught courses and given talks on radio and television. More than 800 of my students have graduated," he commented about the scope of Grupo CreSer.
Adrian is also recognized as part of the ExaUDEM Success Stories.